Sea Kayak Staycations in Jersey & UK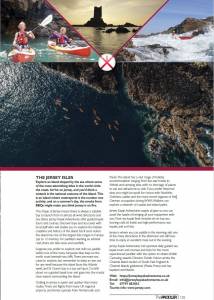 Our sea kayak tours and courses around the fantastic coastline of Jersey get a mention in the Kayaking Staycations feature in The Paddler Magazine.
Explore an island shaped by the sea where some of the most astonishing tides in the world circle the coast. Arrive on Jersey, and you'd think a wetsuit is the national costume of the island. This is an island where watersports are the number one activity, and on a summer's day, the smoke from BBQs might make you think Jersey is on fire.
The shape of Jersey means there is always a suitable bay to launch from in almost all wind directions and sea states. Jersey Kayak Adventures offer guided kayak tours and courses. Discover bays and sea caves with local staff who will enable you to explore the hidden coastline and history of the island.
You'll soon notice the island has one of the largest tide ranges in Europe (up to 12 metres). For paddlers wanting an adrenal rush, there are tide races and overfalls.
If you prefer to explore and chill out, paddle within one of the many turquoise blue bays on the north coast beneath sea cliffs. There are many sea caves to explore, but remember to keep an eye out for any swell because the island faces the Atlantic swell, and St Ouen's bay is a top surf spot. Or, drift about on a guided kayak tour and gaze into the crystal clear waters surrounding the island.
Jersey is where you can paddle in the morning, visit one of the many attractions in the afternoon and still have time to enjoy an excellent meal out in the evening.
Travel & Accommodation in Jersey
Getting to Jersey is easier and quicker than many realise. There are flights from many UK regional airports, and ferries operate from Portsmouth and Poole.
The island has a vast range of holiday accommodation ranging from five-star hotels to Airbnb and camping sites, with no shortage of places to eat and attractions to visit. If you prefer historical sites, you might be spoilt for choice with Neolithic Dolmens, castles, and the more recent legacies of the German occupation during WWII. Walkers can explore a network of coastal and inland paths.
Jersey Kayak Adventures supplies all gear so you can avoid the hassle of bringing all your equipment with you. Their sea kayak fleet includes sit-on-top sea touring craft, sit inside and high-performance sea kayaks, and surf skis.
Jersey Kayak Adventures Ltd operates daily guided sea kayak tours and courses and trips for the more experienced paddler with the option to obtain British Canoeing awards. Director Derek Hairon wrote the Channel Island section of South East England & Channel Islands guidebook (Pesda Press) and has kayaked worldwide.
Web: https://jerseykayakadventures.co.uk
Tourist info:
Read the original article and lots more in this excellent paddlesport magazine here.
The Paddler offers both a free digital edition and a printed subscription option.