Sit-on-top Kayak Club
Jersey Kayak Club is open to anyone who has completed our courses and enjoys Sit-on-top and sit inside style sea kayaking in Jersey.
If you have not completed our courses you must have previous kayaking experience to join the trips.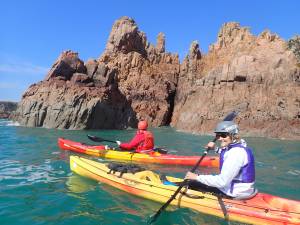 Take part in regular Sit-on-top kayak trips with other like-minded people who have completed our courses and are of a similar standard.
If you prefer to paddle a sit-inside sea kayak that is also okay. We have many different designs of sea kayaks to choose from.
Reduced prices on our "club" sessions
"Kayak Club" operates on a pay-as-you-paddle basis and there is no joining or membership fee to pay.
Club Paddles 2021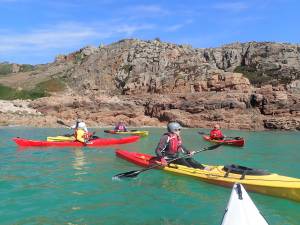 For anyone with some experience of kayaking who wants to spend more time on the water. Paddle in the company of others with an experienced instructor and guide.
The emphasis is on discovering our hidden coastline, observing wildlife, and learning about our island's maritime history.
Special rates, if you have completed our kayak courses.
"Kayak Club" operates on a pay-as-you-paddle basis. There is no joining or membership fee to pay.
Wednesdays 1000-1215: September 29, October 6, 13, 20, 27, November 3, 10
Friday afternoons 1400-1615: August 13, 27, September 10, 24, October 8, 22, November 5.
Sundays 0930-1145: September 26, October 10, 24, November 7, 21
Special prices only apply if you have completed a kayak course or, have sufficient experience (which we may ask you to verify).
Select the relevant kit option when booking to get the reduced price:
Have all your own equipment; £23
Just need a kayak and paddle; £29
Need all gear and kayak; £34.
Note: the above prices only apply if you have attended our courses or, have a suitable level of experience.
Email Derek to be added to the email list to know the venue each week.
Sit-on-top and/or closed cockpit kayakers welcome.
Look out for emails for other club events and trips.
Sign up for the Kayak club newsletter to know the dates and venues.
Pay an amount and we debit your club member account every time you go afloat. There's no need to keep entering credit/debit card details when you book online or email/text. Your paddle credits do not expire and can be used towards any of our events.
Intermediate Kayak Course 2021
Develop your paddle skills in a range of conditions. These classes include an option to try sit inside kayaks as well as sit-on-top kayaks.
Level: If you have been kayaking for a while and have gained more experience this course is for you.
Kayak from different locations and conditions so you get to develop your paddle skills in a range of situations. Expect to get lots of top tips to make you a better kayaker so you will get more out of your kayaking. This course will reveal the superb coastline of Jersey.
We keep the group size small so we can tailor the course to the groups' needs. Drysuits are available for use during the winter and if you want to try sea kayak rescue skills.
Wednesdays 1000-1230: September 29, October 6, 13, 20, 27, November 3, 10. Book via the Kayak club link.
5- day Intermediate courses:
Email Derek to book a place. Call me if you want more advice: 07797853033
COVID-19
We are open and have implemented revised safe operating policies to keep you and our staff safe. This will include smaller group sizes, options to book private trips, and safety procedures to maintain physical distance and hygiene. Read our COVID-19 response here.