Gift Vouchers
Buy a Gift Voucher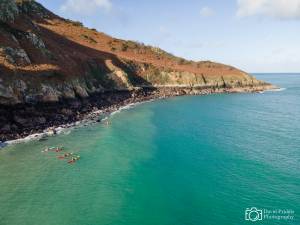 Kayak and walking gift vouchers enable the recipient to select from various tours, courses and walks on the seabed. Use the voucher to pay in full or for part of the costs.
Generic vouchers allow you to purchase a gift voucher for a given amount, which can be used for any future booking. The value of the voucher is shown. If the value of the voucher is more than the cost of the event, a credit will be made for future trips.
Specific Vouchers allow you to purchase a gift voucher for a specific tour and number of people. The recipient only needs to pick a date and time and will never see the price.
How to buy
Select the Generic Voucher "Buy Now" button
Choose the value of your voucher from the drop-down box.
Input your details.
Pay by debit/credit card or PayPal.
You will then be emailed a unique six-figure voucher code to book kayak tours and walks on the seabed. Customise your voucher by selecting a photo and adding a personal message.
If the cost of the activity is less than the value of the gift card, you can use the credit for other reservations. Remember to book with the same email address.
Vouchers are valid for one year from the date of purchase.
Redeem your Gift voucher here:
Buy the books:
Sit-on-Top Kayak, a beginner's manual
Top tips and hints to get the most fun afloat while out on your sit-on-top kayak. My book covers essential skills, advice on selecting the best sit-on-top kayak for you, and lots of safety advice.
The course manual on our introduction to sit-on-top kayaking courses.
Sit-on-top kayak, a beginner's manual by Derek Hairon. £10. Read the Press Office for more information.
Jersey Sea Kayak Guidebook
South East England &  Channel Islands Sea Kayaking Guidebook by Derek Hairon. £19.99
A comprehensive sea kayaking guidebook to all the Channel Islands with lots of tips and routes. Derek has kayaked extensively in Jersey and the Channel Islands for over 40 years.
There is a bonus with many great routes on the southeast coast of England written by contributing authors who have also spent lots of time exploring this often-overlooked section of the coast.